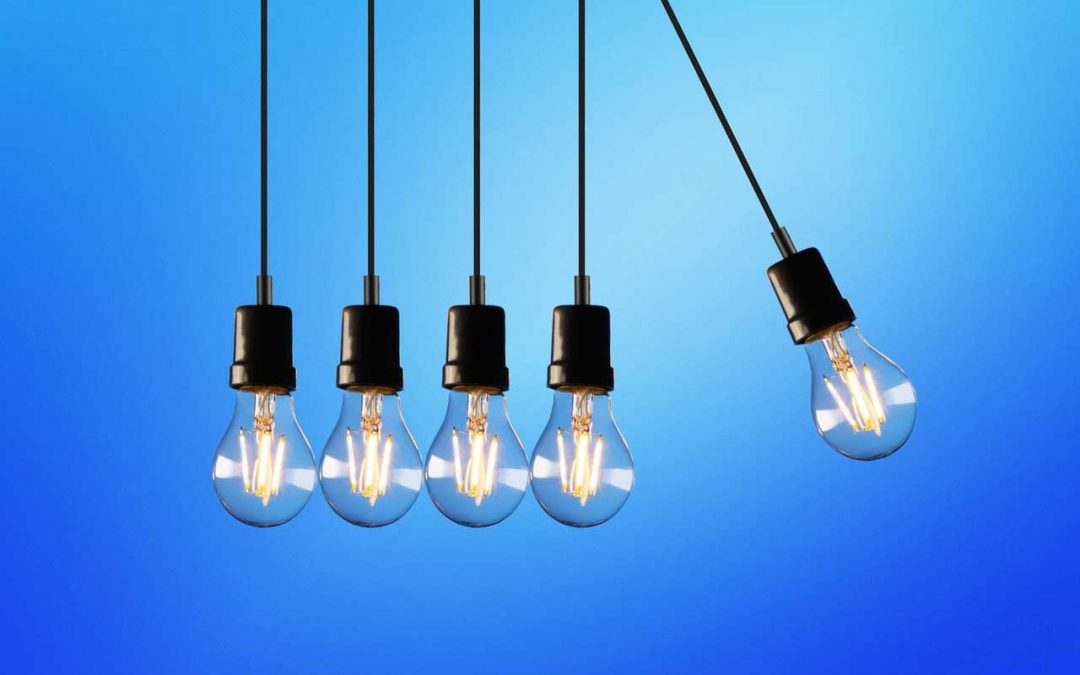 Getting your video to show up as a YouTube Suggested Video is one of the best ways to get more views on YouTube.
But how do you do it?
How does YouTube Suggested Video work?
How do you get the YouTube algorithm to start pushing your videos as the best option for "Up Next"?
YouTube is the second most visited site in the world with over 4 billion hours of video watched every month on the platform.
That's a lot of competition, but with Suggested Video Optimization (SVO), you can set your videos apart and increase the likelihood of being discovered.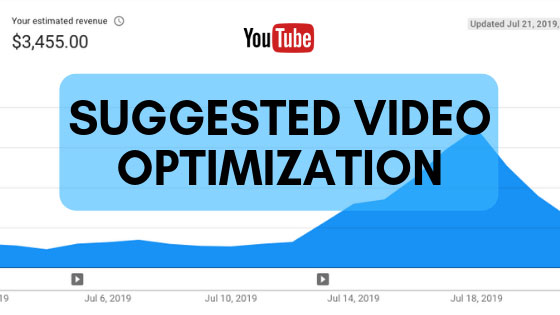 In fact, one video on a travel channel recently got a huge boost from suggested video that resulted in an additional:
$3,461.70 in AdSense revenue,
Over 13,500+ new subscribers, and
1.3 Million views
In just 5 days…
Here's the proof:

That massive spike in the chart is because this video was suggested to viewers watching similar content.
So how did we do it? 
Now that you know I know what I'm talking about, let's get into the steps. 
These are the exact steps we followed to produce these results. 
Let's get started… 
This is a complete step-by-step guide for how to maximize YouTube Suggested Video Optimization (also known as YouTube SVO).
 If you follow these steps this correctly, your videos will have a much higher chance of being recommended by YouTube through what they call their 'video discovery' features.
Video discovery features allow YouTube viewers to find content they actually care about.
The YouTube algorithm currently analyzes over 80,000,000+ data points to determine which videos to display to viewers.
That's a LOT of data! So let's break it down to the most important factors you should be controlling and optimizing in your videos…
When selecting suggested videos, YouTube analyzes each individual viewer's:
Search history
Viewing history
Channel subscriptions
Other channels that similar viewers are subscribed to that they have not yet subscribed to
Viewing choices (in other words, which thumbnails does the viewer have a history of clicking on?)
and much more…
The amount of data that YouTube analyzes and stores is insane.
To really "get" how suggested video works, you need to understand that YouTube doesn't just consider what's relevant content-wise in the videos themselves.
It's also analyzing what's relevant to each individual viewer.
With over 1.3 billion registered users (and many more without official YouTube accounts), needless to say YouTube is crushing it in the data department.
So let's make sure you understand how to analyze and optimize your videos and data to get the most bang for your buck on YouTube.

YouTube's primary job is to figure out what the viewer wants to watch next so it can keep that viewer on the platform longer.
Your job is to make sure you optimize every video you create so that it has the largest possible reach and gets as many impressions as possible.
Follow the steps in this YouTube SVO guide to take advantage of this particular YouTube discovery feature so you can get:
More Views
More Subscribers
More Leads
More Sales
It's not an easy process, but I've done everything I can to simplify the steps to follow for YouTube Suggested Video Optimization in this article.
Why YouTube Suggested Video Optimization Matters
YouTube's primary goal is to increase Watch Time, not just on your videos, but on YouTube as a whole.
They do this via what they call video discovery features, which include:
Search
Suggested Video
Browse Features
Other YouTube Features (Partner Promotions, Dashboard, etc)
Other (External, Notifications, End Screens, Video Cards and Annotations, Playlists and Playlist Pages, Channel Pages)
YouTube Advertising
These are all the different possible Traffic Sources that can bring viewers to your videos.
To locate where your traffic is currently coming from, inside your YouTube Studio, navigate to 'Analytics' and select the 'Reach Viewers' tab.

YouTube provides direct, actionable data for you here so you can see what's already working for you (and what's not).
It's easy to get lost in the analytics of your channel, so let's focus on what matters.
Step 1 – Optimize Watch Time
Watch time is the most important factor to optimize if you want YouTube's algorithm to push your content.
Watch time helps creators understand the quality of their videos and how well different videos keep viewers engaged.
In fact, YouTube has confirmed that Session Watch Time — which is the total amount of time a viewer spends on YouTube as a whole — is the most important factor the algorithm looks at when selecting videos to suggest.
"When we suggest videos, we focus on those that increase the amount of time that the viewer will spend watching videos on YouTube, not only on the next view, but also successive views thereafter.

If viewers are watching more YouTube, it signals to us that they're happier with the content they've found. It means that creators are attracting more engaged audiences. It also opens up more opportunities to generate revenue for our partners."
How To Increase Watch Time
Optimize Video Length
Video length is a huge factor in increasing overall watch time. Everyone wants to know "How long should my YouTube videos be?"
Since YouTube prioritizes watch time over every other data point, it makes sense that longer videos tend to perform much better on YouTube as a whole.
After extensive testing across multiple channels, we discovered that videos that are 5 minutes or less tend to perform horribly in the YouTube algorithm.
Videos that exceed 10+ minutes almost always perform better.
Think about it…
If watch time is a priority, and Video 1 is only 4 minutes long while Video 2 is around 15 minutes long — and the average View Duration for BOTH videos is the same (let's say 50% to keep this simple) — then:
Video 1 will produce 2 minutes of watch time (50% of 4 mins), and
Video 2 will produce 7:30 minutes of watch time (50% of 15 mins).
Which video is YouTube going to recommend first?
Yeah, you guessed it. Video 2 which has over 3x as much total watch time.
However, there's no "one size fits all" answer for optimal video length.
It's important to analyze your own channel metrics to identify the ideal video length for your specific audience and content style.
I always recommend beginning with videos in the 10-15 minute range, and testing out longer videos later to see if they resonate with your audience.
Understanding your YouTube Analytics data is crucial for determining the ideal length of your videos.
Inside your YouTube Studio, navigate to your channel's Analytics section and select the "Interest Viewers" tab.

Scroll down and you'll see the videos on your channel that are driving the most watch time.
Analyze the individual lengths of these videos as well as your average view duration to determine how long to make your future videos.
Optimize for Audience Retention
It's too shortsighted to just say "longer videos always perform better," because that's not always the case.
If your video is boring as hell, no one is going to stick around for the whole thing. This is where audience retention optimization comes in.
Audience retention is how well your video keeps people watching.
It's measured by the percentage of time a user stays on your video before dropping off or clicking away, also known as average view duration.
A healthy average view duration typically looks like this:

This shows where people start falling off on each video.
If you ever notice any massive declines in this line, you'll know you need to watch the video at that time signature to see why people are falling off at that particular junction.
Using this strategy, we discovered that a long branded intro (10 seconds) was killing our watch time.
We used this data to shorten that branded intro to 3 seconds instead and were subsequently able to retain more viewers for much longer.
To further optimize your audience retention, aim to make your video interesting.
Also, use pattern interrupts whenever possible to help keep the viewer's attention.
Pattern interrupts can include:
Jump Cuts
Camera Angle Changes
Sound Effects
Motion Graphics
Music
B-Roll Footage
Info Cards
and More…
People are used to a fast pace on YouTube. So keep up with the pace!
You don't need to be Speedy Gonzales and say 100 words per minute, but you do need to be quick, captivating and concise with your delivery.
To help you with this, I highly recommend scripting outlines for your videos so they stay concise yet structured.
Also, consider using a teaser at the beginning to encourage viewers to stick around, something like:
For a special bonus tip, watch all the way to the end of the video. I'm saving the extra juicy stuff for last…
Knowing that a video is going to be covering 'XYZ' on any given topic can help encourage the audience to stick around and watch the whole thing.
Optimize for User Engagement
There are several user experience signals that tell YouTube your content is worthy of engaging with.
Increasing these user experience signals helps boost your chances of being recommended in suggested video because these signals imply that your video is beneficial to the viewer in some way.
At least, it was beneficial enough for the user to engage with it.
Remember – YouTube's job is to recommend content that is beneficial to the viewer, so optimizing your videos for user engagement is critical.
If people engage more with your video, it helps YouTube know that it's worth suggesting.
User engagement signals on YouTube include:
Comments
If people comment, they probably enjoyed the video (or at least watched it)
Likes / Dislikes
This tells the algorithms that your users are engaged and watching enough of your video to know what's good and bad
Favorites
The number of people that "favorite" your video or add it to their "Watch Later" playlist
Subscribes
If someone subscribes to your channel during or after watching your video that sends a HUGE signal that you have an amazing video
Social Shares
How many people share your video on social media sites like Twitter, Facebook and Pinterest
Audience Retention
As mentioned, this is the percentage of your video people tend to watch (the more, the better)
Make sure you're adding call-to-actions in your videos to encourage people to engage with the video in these important ways.
Best Ninja Hacks to Increase User Engagement
Use a "Subscribe" Channel Watermark to help increase subscribers
Add a verbal CTA after the first 15 seconds of your video such as, "If you like this video, hit the thumbs up button so that I know and don't forget to subscribe!"
Repeat this same CTA at the end of your video
Add subliminal CTAs to subscribe, like and share by using motion graphics templates 1-3 times throughout your video (these are known as .mogrt files in Adobe Premiere, and you can find several templates here plus learn how to install and customize them here
Use photos in your background or wear clothes that say "Subscribe"
Ask your audience a specific question and tell them to answer you in the comments
Poll your audience using the Poll Cards feature
Use Info Cards to link to your other videos and playlists
Pin a comment to the top of the Comments section with a question for the audience
Bonus Tip: The better your user YouTube experience signals, the higher you'll also rank on YouTube because increasing these metrics also helps your video SEO. You can outrank competitors with 10x more views if your video has better user experience signals.
Step 2 – Use Similar Titles & Keywords to Videos That Are Already Performing Well on the Same Topic
This is a big one for YouTube SVO.
The more similar your video is to a video that's already performing well on YouTube, the more likely YouTube will suggest your video as one to watch next.
There are 4 main places you should mirror other videos to maximize SVO.
Video Title
Your video title should closely match the videos that are already performing well and being suggested. Titles should always include your target keyword.
The goal of a good title is to increase your clickthrough rate (CTR).
Include your target keyword once in your title, as close to the beginning as possible, and make it enticing while mirroring similar videos.
Your title needs to be something your target viewer will actually click on in order for it to be effective.

Video Description
Your video description should aim to include the same target keywords that other popular videos have in their descriptions.
Video descriptions help YouTube better understand what your video is about, so I recommend adding 200+ word descriptions to your videos.
The more in-depth your description is, the better it helps YouTube understand the contents of your video which helps it know to suggest your video.
Place your target keyword as close to the beginning of your video description as possible, and write a few more relevant keywords into your description to supplement it.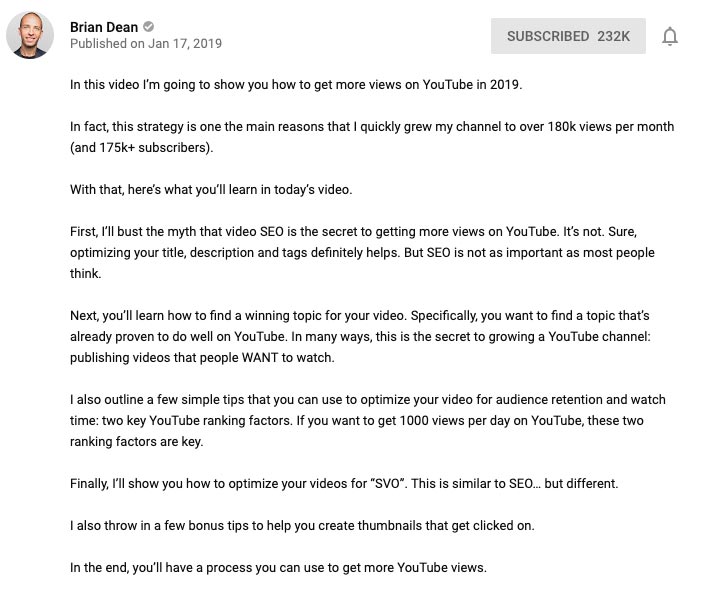 YouTube Video Tags
Video tags are less important than they used to be, but you should still use similar tags to your target SVO video.
YouTube allows you to add up to 500 characters in your tags.
I recommend using at least 5+ video tags, with your target keyword as the first tag.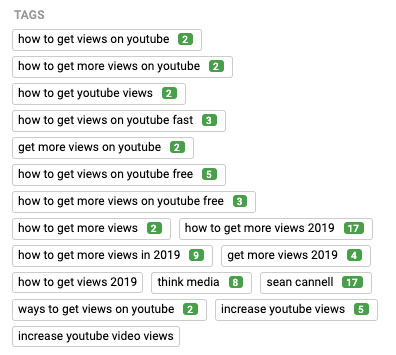 Say Your Target Keyword in the Beginning of the Video
The last way to mirror similar videos is by making sure you say the title or target keyword in the beginning of your video.
This first 15 seconds of your video is the most important real estate you have available to you.
It is also known as your "hook," and a good hook can help draw viewers in, keep them watching and boost your chances of being suggested by YouTube.
YouTube can actually understand the words you say in your videos, and though it's not a perfect system, it does help to say your target keyword right away.
I recommend focusing in on grabbing the viewer's attention in the first 5-10 seconds especially, since attention spans are getting shorter and shorter.

Step 3 – Optimize Your Thumbnails for Higher CTR
Custom thumbnails make your video pop and significantly increase the click-through-rate from search and suggested videos.
Think of your thumbnails as a "billboard ad" for each video.
Thumbnails on YouTube are extremely important and can make or break your video.
Great thumbnails are one of the biggest determining factors of success on YouTube because they help increase clickthrough rates, which leads to more views.
You can measure the overall performance of your thumbnails using the Impressions:CTR ratio in your Analytics dashboard.
Go to your YouTube Studio and select 'Analytics,' then navigate to the 'Reach Viewers' tab and you can see how your individual thumbnails are performing.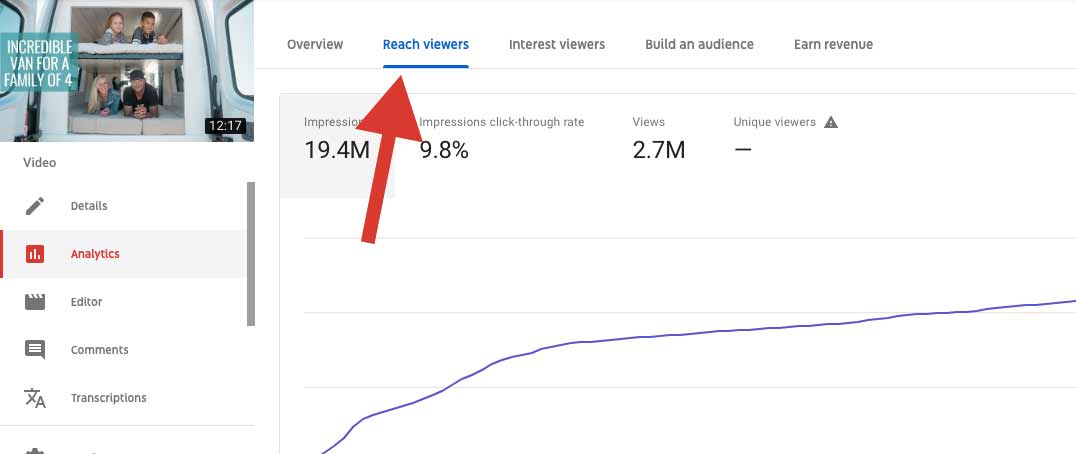 You'll notice the Impressions click-through rate metric YouTube now tracks for you. This is a good indicator of how well your thumbnail performs. 
A good Impressions:CTR is around 7-10%, so gauge your thumbnails accordingly.
Make sure they're always keyword-targeted, clear and easy to read. 
Best YouTube Thumbnail Specifications
Do not include more than 5-7 words of written text, one of which should be your target keyword
Image dimensions: 1280 x 720 pixels
Title your custom thumbnail image files as follows: target-keyword.png (or .jpg)
Use bright, contrasting colors to help your thumbnails stand out from the rest of the YouTube videos that search features will pull up
Do not include your logo on your thumbnail (it takes up too much real estate)
Step 4 – Promote Your Videos
Obviously once you've covered all of these steps, the last step is to get as many views on the video as you can, especially within the first 24 hours of publishing it.
To do this, you'll want to drive traffic to your video in as many ways as possible.
Here are some of teh best ways to do that.
Embed Your Video On Your Blog or Website
Once your video is uploaded to YouTube, make sure you have a high quality SEO blog post or article on your website to help promote it.
This gives your video a permanent place to live where Google can also index the content.
It's like killing two birds with one stone.

Email Your Mailing List
Announce your video to your email list as soon as it's published.
I recommend sending people to your embedded blog post for this step (versus the video on YouTube itself) if you're using intelligent retargeting campaigns.
NOTE: If you're not using retargeting campaigns yet, you can send them to the video directly but then you won't have a way to easily pixelate the audience for remarketing purposes, other than through your own Custom Audiences.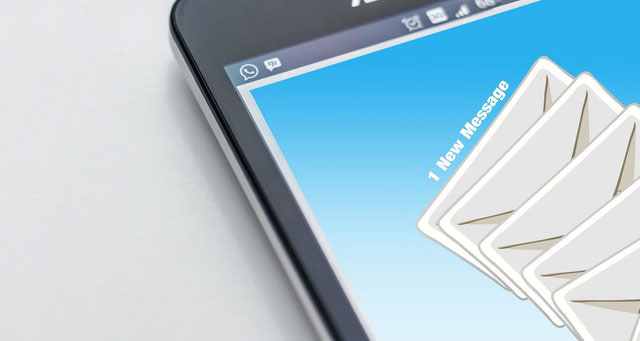 Share Your Video to Social Media
YouTube allows you to share your video directly from the YouTube platform, but you probably already know it's much better to share videos by uploading them natively to each platform.
Facebook and Instagram are Google and YouTube's biggest competitors, so both platforms typically hide links that send people off-site.
(Especially if your link routes to their direct competitor)
If you have the resources to take this one extra step, I recommend creating a "teaser trailer" for each video that you can upload natively to each social media platform instead.
Teasers are a shortened version of the video that highlights the best part of the video and includes a CTA to watch the full video on YouTube for more.
Post the video link in the comments section instead, because otherwise you'll get crushed by the competing algorithms on Facebook and Instagram.
I also highly recommend creating infographics and Pinnable images for Pinterest.
This is another reason why you want to embed your YouTube videos on a blog post instead of sending traffic directly to YouTube.
Embedding your videos allows you to share your content to social media directly from your website.
Share Your Video on Forums and Quora
Forums like Reddit or Quora are a great place to share your videos.
These are the places people go to find answers to questions they have, and if your video helps answer those questions, you can get a lot of traction doing this.
Link Your Video in Your Email Signatures
Consider adding a text link, gif or jpg image to your email signatures to help push more traffic to your video over time.

Share Your Video on Facebook Messenger Using ManyChat
We've seen massive success with our clients who use ManyChat for Facebook messenger.
Share your videos out to your ManyChat subscribers list to boost views instantly.
YouTube SVO Summary
Overall, getting YouTube to suggest your videos is no easy task. But it's incredibly worth it!
YouTube SVO can bring in a flood of new traffic to your videos and help you skyrocket your channel, leads, views, subscribers and sales much faster.
If you enjoyed this article or found it helpful, leave a comment below and share any questions you still have.
I'll check back in weekly to answer them!
Liz Germain is a leading expert in video and YouTube marketing. Liz has generated over 50+ million organic views and tens of thousands of leads for online businesses using YouTube. She helps people set up video automation systems that help increase passive income and 10x their impact online with YouTube.
Want Personalized YouTube Growth Support?
Check out the Vidfluence trainings and services.